How can we help people with a dementia be creative in the everyday?
Over 850,000 people live with a dementia in the UK today, with numbers set to rise ¹. With greater pressure to help people live well with the condition at home, new challenges emerge in how people's care needs can be met in their own communities. Those needs include access to the same facilities, services, and opportunities as everyone else. For example, access to heritage sites and activities offers an important route to wellbeing outcomes for those with a dementia diagnosis. Yet, exclusion is common, reflecting stigma attached to the condition and a lack of opportunities to participate fully in community life. These opportunities should respond to the needs, interests, and capabilities of those with a dementia diagnosis, rather than be designed for someone with dementia – a critical position in person-centred care today.
1 Alzheimer's Research UK. Dementia Statistics Hub. Available at https://www.dementiastatistics.org/
A classic wicked problem, support for the inclusion of people with a dementia in community life pits a grass-roots cultural change project against the agile innovation demands of funders and policy makers. A clumsy solution might ask how communities can be empowered to develop their own novel approaches, whilst sharing insight both regionally and nationally. With this in mind, supersum approached the Meeting Centres programme run by the Association for Dementia Studies (ADS) at the University of Worcester. Meeting Centres support people living with mild-to-moderate dementia to cope with the transitions dementia brings. ADS brought the Meeting Centre model from the Netherlands to the UK, where an expansion of the programme is under way.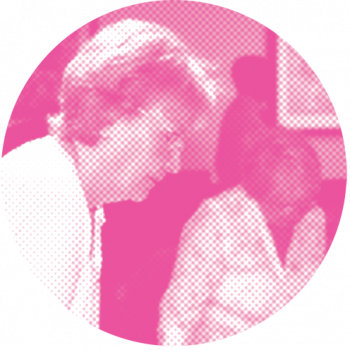 We believe that Meeting Centres (across the UK) are uniquely well-placed to build on their service provision model and become leaders in the creation of dementia-friendly communities. Our long-term goal is to support Meeting Centres embed themselves at the centre of local and regional partnerships that can drive the slow culture change required in making our communities more inclusive to those with a dementia diagnosis. Our first step is to show how individual Meeting Centres can drive the development of new partnerships locally around a valued theme. Here, we are working closely with the Leominster Meeting Centre in Herefordshire, its members and regional partners to open-up access to heritage in the region. Our capacity building programme is in place, with funding applications pending.